livechat software
Your specialist for secure live chat and AI
Advanced chat technology for enterprise businesses
Unlock opportunities with AI-infused chat technology. With WhosOn, you get the smartest live chat features available – spanning bots, advanced analytics, conversational automation, and more. All deployed in the way that suits your business.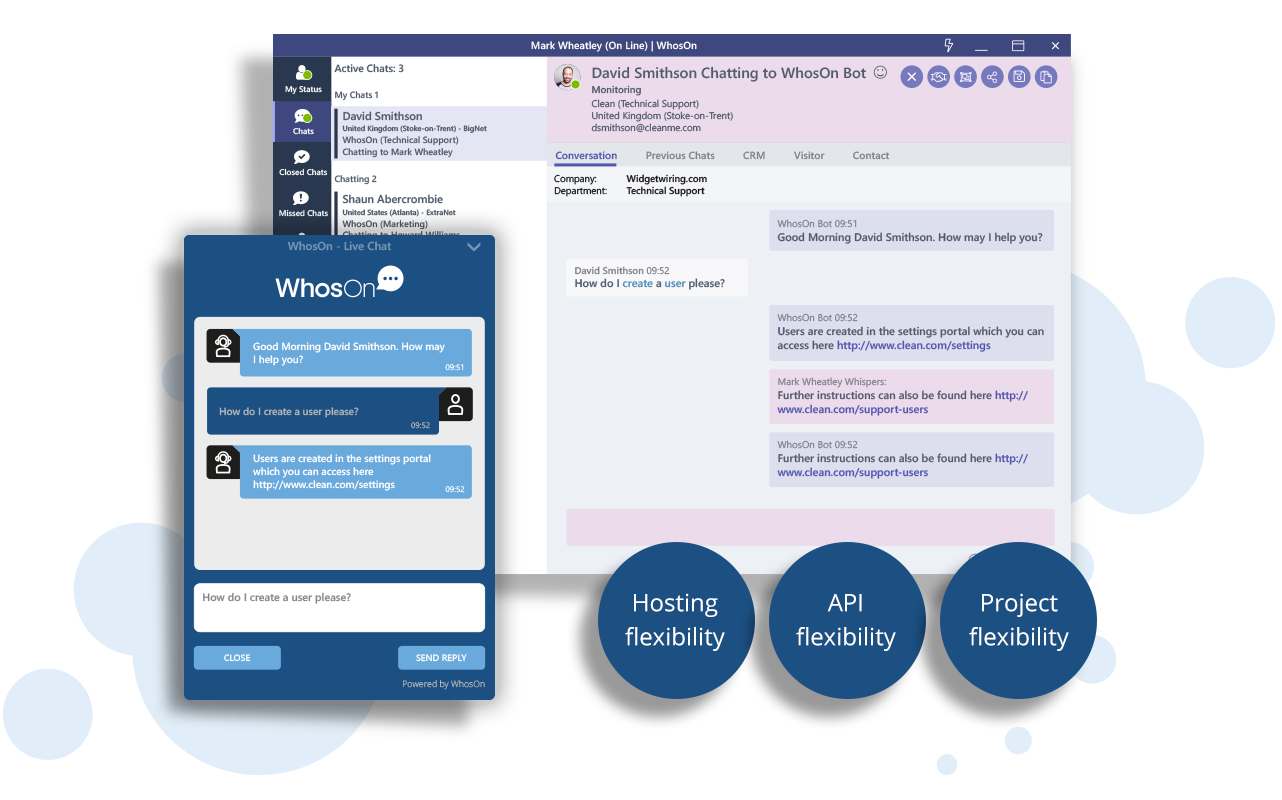 Solving your live chat challenges

Regulation ready
WhosOn is designed for easily achievable compliance.

Implementation empowerment
On-premises, HCI cloud, or dedicated server deployment.

Enterprise scaling
Primed for multisite, multi-country, multilingual scale.

Safeguarded chat data
Encryption, intrusion prevention, data masking and more.

Integrated chatbots
Blend bots with your agents and technology stack.
Tailored functionality
Customise chat via API, or commission work from our team.
An omnichannel ecosystem
Bind your systems together with WhosOn. Rather than sitting in a silo, your chat data flows through an integrated ecosystem.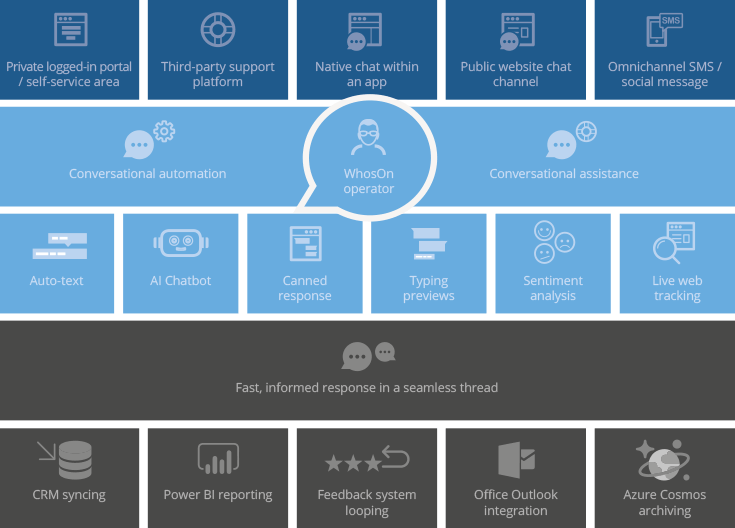 Sophisticated tools for your team
Tap an advanced range of features to power up your team. WhosOn gives you all-new capacity to serve more customers, with more insight, in less time, using less human resource.
Sentiment analysis algorithms
Real-time chat translation
Live web analytics and visitor tracking
Omnichannel chat-call transitions
Comprehensive chat reports
The choice for highly regulated industry
The cookie-cutter approach to live chat isn't for everyone. Sometimes, you need a high-level implementation shaped around specific needs. Here, our pedigree makes us the perfect choice.
A long-established service in complex markets
Catered to niche and custom needs
Experts at technical chat challenges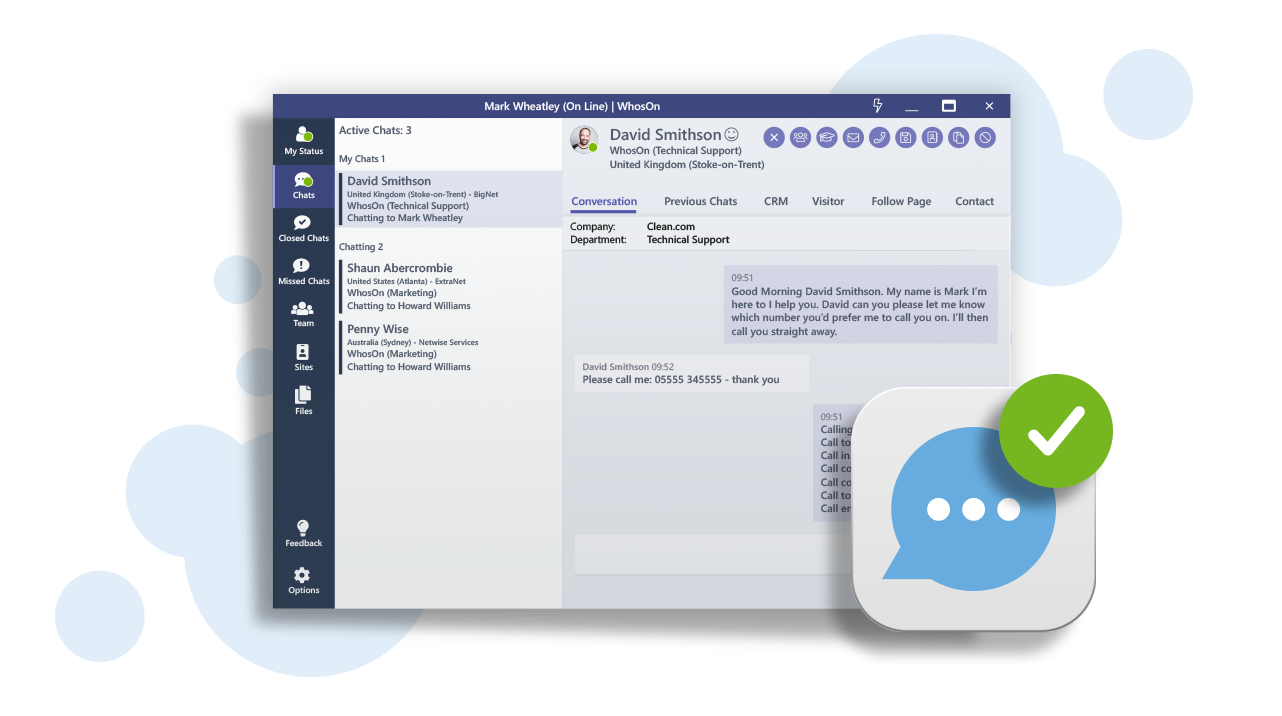 Build. Integrate. Grow.
The best solutions are born of collaboration. So, power your own innovations with access to our state-of-the-art live chat and bot features.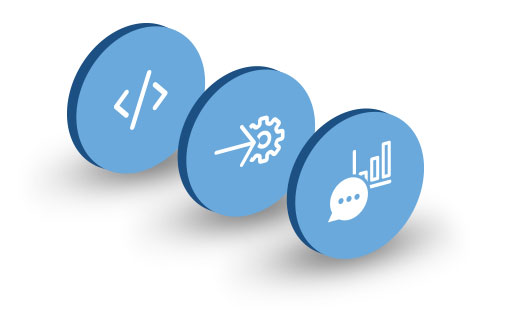 Plug chat into your product

Integrate WhosOn into your tech stack

Become a technology partner

Transform customers' businesses

Develop complementary solutions

Design your own interface and client
Work with the UK live chat leaders
When you partner with WhosOn, you're partnering with a small force of specialists. Live chat software has been our forte since the technology's conception in the early 2000s. So, we know our business. And, more importantly, we know how best to cater to yours.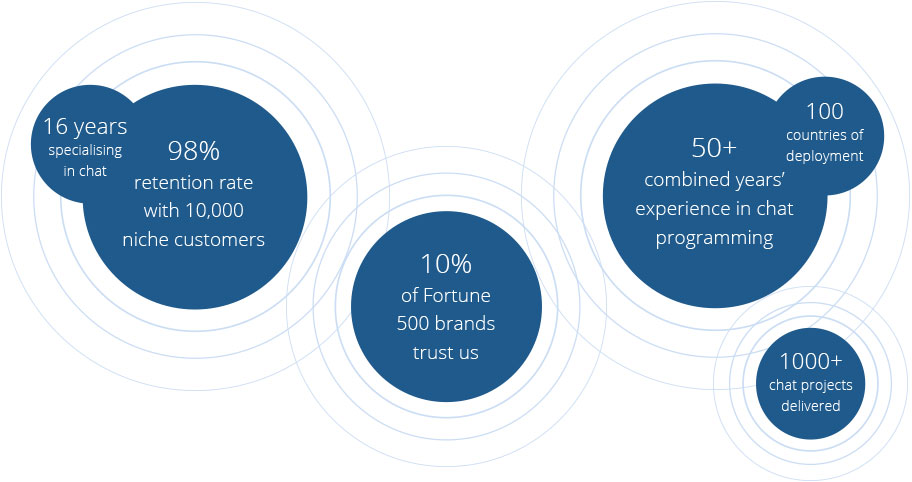 Start scoping your chat project
Before we start work on your chat project, we need to take the time to understand your business and its goals.
Then, we can recommend next steps, start planning any custom work and get you set up with a free trial.